FDA is encouraging your organization to focus more time and energy into usability engineering/Human Factors Engineering. But where do you start? How do you tackle the many ways in which your device might be used? And what are good risk activities to include in your design process?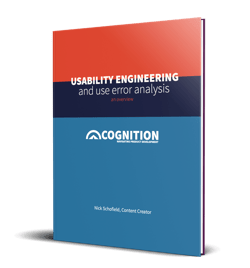 In our latest white paper, "Usability Engineering and Use Error Analysis: An Overview," we answer those questions. Subscribe and get your free copy to read about topics including:
The importance of starting with the use specification
Differentiating functions and tasks for usability activities
What's involved in conducting a Use Error Analysis
Read about each of these topics and how activities like Use Error Analysis can lead to more dynamic, impactful risk management.