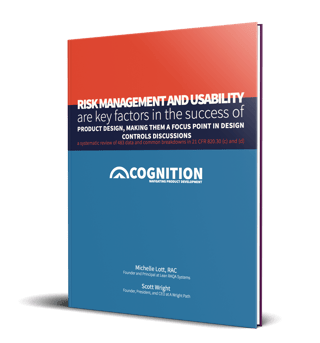 The FDA considers ISO 14971, IEC 62366, and ANSI/AAMI HE75 for Usability and Human Factors as applicable for risk management in product development. Teams are expected to independently maintain compliance with these evolving standards, and this can result in compliance failure. This failure is frequently cited during FDA inspection and the issuance of Form 483s.
Download the white paper to see the analysis of Form 483s and Warning Letters.
"Risk Management and Usability are Key Factors in the Success of Product Design, Making Them a Focus Point in the Design Controls Discussion"—the first part of the Design Controls White Paper series—takes a systematic approach to understand common failures in risk management and usability, along with practices to avoid and overcome them. Ensuring international risk management standards utilizing well-established, compliance-oriented procedures will safeguard the product from delays during FDA inspection and adulteration due to production failures.
Download your complementary copy today!
Do