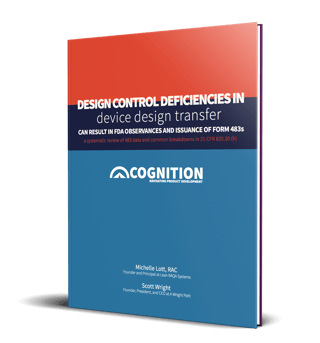 The FDA requires medical device manufacturers to follow a strict set of guidelines in order to ensure compliance and safety for all devices going to market. These regulations and guidelines are confusing to understand and poorly implemented within industry. This often leads to the FDA issuing Form 483s and Warning Letters to manufacturers out of compliance. The new white paper aids in understanding the failures many face as well as best practices to avoid and overcome them.
Download the white paper to see the analysis of Form 483s and Warning Letters.
The sixth paper in the series was just released. The topic: "Design Control Deficiencies in Device Design Transfer Can Result in FDA Observances and Issuance of Form 483s". The paper conducts a systematic review of 483 data and common breakdowns in 21 CFR 820.30(h).
Download your complementary copy today!