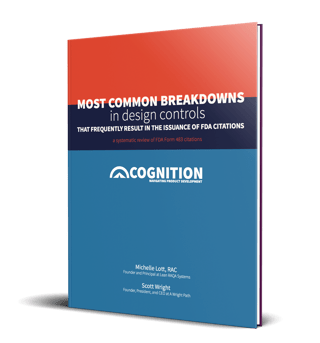 During an FDA inspection, medical device organizations can expect investigators to spend significant time reviewing design controls. Subsequently, design controls are the most frequently referenced deficiency resulting in the issuance of Form 483s. Understanding what breakdowns in design controls are most common and methods for remediation can better prepare product development teams for inspection and review.
Download the white paper to see the analysis of Form 483s and Warning Letters.
"Most Common Breakdowns in Design Controls That Frequently Result in the Issuance of FDA Citations"—the second part of the Design Controls White Paper series—takes a systematic approach to understand common, overall failures in design controls processes, along with practices to avoid and overcome them. Ensuring 21 CFR 820.30 with well-established, compliance-oriented procedures will safeguard the product from delays during FDA inspection and adulteration due to production failures.
Download your complementary copy today!