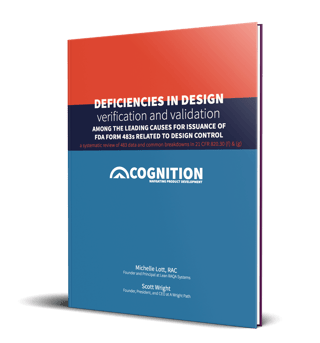 Verification and validation of device design are critical stages of design control. Subsequently, they see higher frequencies of Form 483 issuances by FDA per year. This recurring trend often cites lack of or inadequate procedures during validation and verification, typically due to issues differentiating between the two processes.
Download the white paper to see the analysis of Form 483s and Warning Letters.
"Deficiencies in Design Verification and Validation are Among the Leading Causes for Form 483s Related to Design Controls"—the fifth part of the Design Controls White Paper series—takes a systematic approach to understand common failures in design verification and validation, along with practices to avoid and overcome them. Ensuring 21 CFR 820.30 (f) & (g) with well-established, compliance-oriented procedures will safeguard the product from delays during FDA inspection and adulteration due to production failures.
Download your complementary copy today!