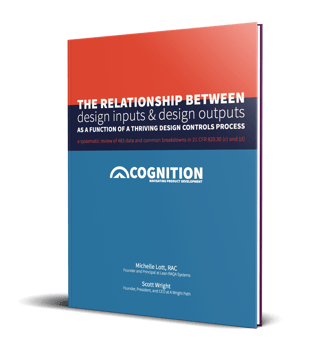 Design inputs and outputs, as defined in 21 CFR 820.30 parts (c) & (d), are dependent upon each other; comprehensive inputs provide a foundation upon which the device design is built. Many manufacturers struggle with deficiencies in both of these phases of design controls due to their interdependent nature Attention given to each phase strengthens the process overall, avoiding potential citation.
Download the white paper to see the analysis of Form 483s and Warning Letters.
"The Relationship Between Design Inputs and Design Outputs as a Function of a Thriving Design Controls Process"—the third part of the Design Controls White Paper series—takes a systematic approach to understand common failures in design inputs and design outputs, along with practices to avoid and overcome them. Ensuring 21 CFR 820.30 (c) & (d) with well-established, compliance-oriented procedures will safeguard the product from delays during FDA inspection and adulteration due to production failures.
Download your complementary copy today!