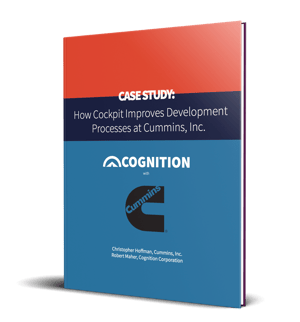 Cummins Inc. is a $17B company that is in business to "design, manufacture, distribute and service engines and related technologies". To manage their complex set of technical processes Cummins needed a cohesive, broad-based, inter-linked database that was easily accessible by all team members in various functional areas. Cummins has found that Cognition Corporation's "Cockpit" system engineering tool met this need.
Cummins also has expanded the Cockpit tool beyond technical processes to also support a wide variety of business processes. Several of Cummins' "Value Package Introduction" (VPI) projects (new product design and development) are being supported by Cognition Cockpit in a cross- functional manner.
After reading this case study you will:
Learn how Cockpit coordinates diverse engineering activities
See how Cockpit links requirements, evidence documents and data
Understand how Cockpit's Web-based approach allows team members to interact real time
Download your complementary copy today!