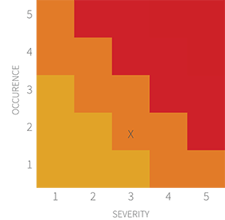 The usability FMEA (uFMEA) is meant to assess risk in the context of device use and subsequent impact. It helps teams develop a device with safety inherently built in and enhanced user interface. Product development teams, through the application of usability engineering activities such as the uFMEA, reap several benefits including:
Reduced time to market due to early detection and mitigation of user interface design features that impact safety;
Reduced likelihood of use errors, meaning less time spent on corrective and preventative action in the postmarket environment; and
More thorough submission documents that may help reduce regulatory review times.
Join Cognition CEO, David Cronin, for an in-depth look at the uFMEA process and completing risk exercises in an online, guided environment. This half-hour webinar will also examine the benefits of usability engineering in the product development process.
Can't make it to this session? We are holding another session on Thursday, July 27 at 1PM EDT. Click the button below to register!